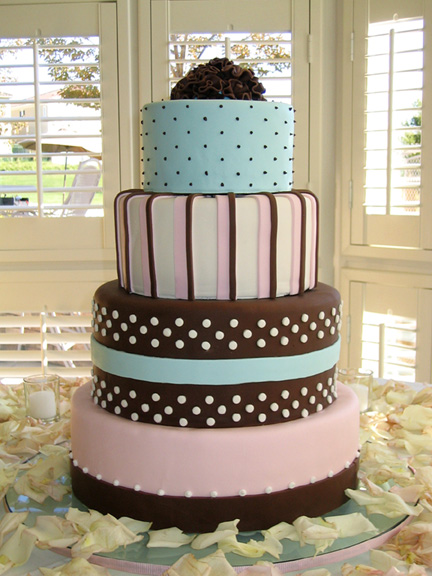 This is the wedding cake that Blake and I made for our friends, Jeff and Darcy Narduzi, on September 16, 2006 in Dublin, CA.
Design The bride chose a design she liked from my cake ideas scrapbook that is filled with years of clippings from wedding magazines for fun cake ideas. We simply customized the design to match the wedding theme including the colors, patterns, topper and number of tiers. I added my own creative touches like the chocolate ribbon flowers on the top. The colors match the wedding invitation and the bridesmaid dresses to a tee.
Cake The bride's childhood favorite – funfetti cake with rainbow chip buttercream filling !! Yes, store bought, but who's going to argue with the bride ??? Besides, it tasted delicious !
Icing Vanilla Italian meringue buttercream crumb coat with colored white and dark chocolate ChocPan rolled fondant. I couldn't use the rainbow chip frosting because the candy bumps would translate through the fondant. So I used the meringue buttercream which is silky smooth and chills stiff to make it easier to apply the fondant.
Decoration I used Choco-Pan fondant for the first time and was extremely pleased with the results. Not only is it easy to work with and very forgiving without cracking or tearing, but it also tastes really good and isn't too chewy !!! The dark chocolate tastes like tootsie roll !!! (They also have a caramel — mmmm!) After some trial and error rolling it out and trying to place large sheets of it on the cake, we finally figured it out. The best way to do it is on a non-stick silicon mat. You don't even need any powdered sugar (at least not with Choco-Pan). You can just roll it out, peel the mat off the table, turn it upside down (with the fondant stuck to the mat), center it over the cake, and peel the fondant from the mat. Like a charm !!
Thanks Special thanks to Blake for helping me out as usual and for maintaining my sanity. He stayed up until almost 4:00 am the night before and got up with me again at 7:30 am to help finish up. He is most proud of all the perfectly aligned polka dots that he meticulously glued to the fondant with royal icing.