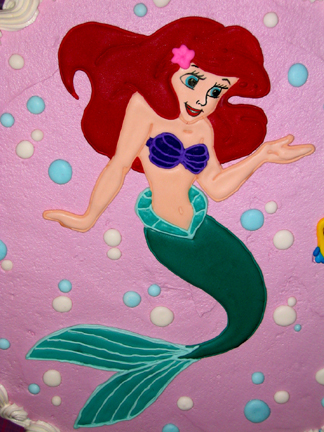 This cake was made for Tristan's 4th birthday party on January 21, 2007. She is the daughter of my friends and colleagues, Shawna and Ryan Upp.
Design What else would a little girl want but the Little Mermaid??? The Little Mermaid actually showed up at the party and had all the little girls dress in costume and do a skit. It was quite fun to watch.
Cake This cake was made from the ever-so-favorite chocolate blackout cake recipe by Margaret Braun.
Filling Creamy chocolate meringue buttercream.
Icing Basic decorator's buttercream.
Decoration Ariel, Flounder and the bubbles are made with royal icing from a technique called "color flow". I took an image from one of Tristan's Disney coloring books and enlarged it. Then taped the image onto a cookie sheet with an overlay sheet of parchment. Then I traced the image with stiff royal icing and let dry. Then filled in the traced outline with thinned royal icing (by adding water) and let dry for two days. I used food coloring pens to paint in the facial features (nose, eyes, mouth).