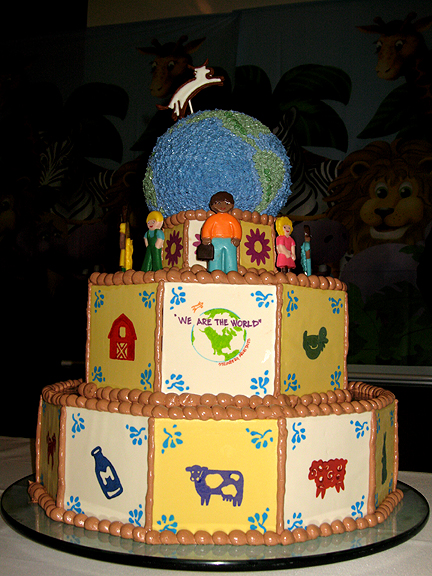 This cake was made for the annual 'Culinary Challenge' sponsored by the local chapter of the International Interior Design Association (IIDA) as a charity fundraiser on July 26, 2007 in Milpitas, CA. Every year IIDA chooses a different charity to support and hosts a culinary challenge between local interior design companies to raise funds and awareness. This year it was for Heifer International which helps families support themselves by providing livestock from which they can produce goods to consume, use and sell like milk from cows or wool from sheep.
Design Many moons ago, the director of our Interiors Group at Steinberg Architects approached me with the challenge to enter the competition in hopes of beating our rival, Gensler, who has won the competition for the past two years. Being a bit competitive (since I have friends who work at Gensler), and feeling like we had a pretty good edge all things considered, I couldn't help but accept the challenge. So, we put our heads together to come up with a design that we thought would win. After several design schemes, we came up with the idea to merge the Heifer International livestock with interior design by creating country themed sugar "tiles" (tile being a common interior finish). The candy people circling the globe represent the Heifer International purpose of people helping one another in a world of equality and peace. The sugar heifer over the globe is the symbol for Heifer International. In the end, we didn't win first place, but we did win second place and Gensler came in third !!! We met our goal of beating Gensler anyways !!! Nothing like a bit of friendly competition !!!

Cake This cake was made from the ever-so-favorite chocolate blackout cake recipe by Margaret Braun.
Filling Raspberry Italian meringue buttercream loaded with fresh whole raspberries. The sweetness of the buttercream nicely balances the tartness of the fresh raspberries.
Icing Smooth and creamy bittersweet chocolate Italian meringue buttercream.
Decoration This was definitely a design by committee piece. TILES The tiles were made from fondant that was previously colored, rolled, cut and air-dried several days before being painted with thinned gel food coloring. The Interiors Group (Lisa, Shannon, Penney and Tina) had previously selected a color palate using Dunn Edwards paint chip samples. We mixed food colors to match the samples, just like a painter mixes paint. We had a creative session in the office kitchen after work where I gave the interiors group a 5-minute crash course on how to paint the tiles. They mixed the colors and directly applied the food color to foam stamps with a paint brush and then pressed the stamp onto the stiff fondant tiles. Penney freehand painted the corner designs on each tile. Tina freehand drew the "We are the World" tile using food coloring pens. We had many curious coworkers meander into the kitchen to see what was going on. PEOPLE Another fellow sugar artist coworker, Araceli, from the accounting group, helped me with the candy people. The candy people were made using colored candy that was melted and quickly piped into candy molds in a specific order then chilled in the freezer for a few minutes to set. GLOBE The globe was made using the Wilton round pan with two halves that are "glued" together with buttercream filling. I found some print-n-cut images of the continents online which I approximately placed on the globe, traced with a toothpick and filled in with colored buttercream. It's not perfectly exact, but you get the point – it's sugar after all. The globe was doweled into a 2″ disk of styrofoam that I had previously covered in fondant and allowed to dry. This made transporting and placing the globe on the cake a lot easier. HEIFER My favorite part was the heifer symbol which I made with color flow icing by tracing an enlarged image printed from the internet. I first traced the symbol with brown icing, then after allowing it to dry overnight, filled in with thinned white icing.
Thanks Many thanks to everyone involved for a great team effort and successfully concluded culinary challenge!! We came in 2nd place !!!