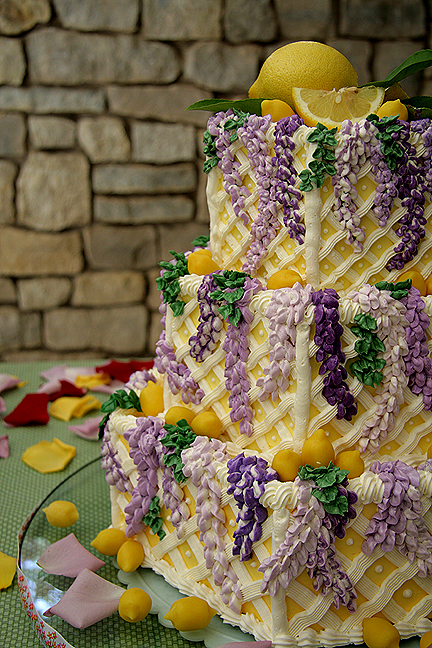 This cake was made for the surprise party of my very dear friend, colleague and mentor, Liz Gibbons, in honor of her 60th birthday on June 22, 2008. The party was hosted at a very lovely home in the hills of Los Gatos, CA.
Design The best part about this cake is that Liz designed her very own birthday cake without even knowing it!!! Several of us women at work got together for a "ladies lunch" one day just so we could "catch up". I just "happened" to bring along my recipe and cake picture books because I needed "help" to come up with some ideas for a garden birthday cake that I had in July (well after Liz's birthday so she would not suspect). I've been doing quite a few cakes these days, so it wasn't unusual that I was working on another one. My friend Linh was looking at the picture book and Liz was actually looking at it upside down. When Linh turned to the page that showed a tiered cake with purple wisteria, Liz exclaimed, "If you ever make a cake for me, this is the one I want." I couldn't believe how easy it was!! I almost laughed out loud. After continuing to look through the pictures and recipes, she found other things she liked including the lattice fencing, red poppies and the lemon poppy seed cake flavor, to play off the poppy theme. She certainly didn't hold back any opinions and by the end of our lunch, she had completely designed her cake, flavors and all. It was TOO easy and we had so much fun telling everyone the story so that by the time the party took place, everyone couldn't wait to see her face when she realized what had happened (hee, hee). The unfortunate thing is that the poppies were eliminated from the design when I realized they would need at least 3 days to do, which was more time than I had since I was starting the cake on Friday morning and the party was on Sunday morning. My work deadline had been extended which left me only 2.5 days to do this cake. I call it the 'marathon cake' as it took a total of 43 hours to make, 40 of them were from Friday morning to Sunday morning and I wasted 7 hours trying to make the poppies before I realized it was a dead end. So, as a result of taking the poppies out of the design, I decided to play off the lemon theme instead. It worked out nicely because the yellow color sets off the lavender and purple so well and the lemons hint at the flavor within.

Cake Lemon poppy seed cake. Finally a new recipe for me !!! I had a lot of fun researching recipies to find one that wasn't heavy like a pound cake and yet not super light like chiffon. This one was somewhere in the middle and included folding meringue made with the egg whites into the batter to help lighten the texture.

Filling A thin layer of tangy lemon curd and a really thick layer of lemon mousse.

Icing Lemon Italian meringue buttercream, colored lemon yellow to further enhance the citrus theme.

Decoration The decorations are pretty simple. The wisteria and fencing was made from two-tone buttercream of white and various shades of purple. The little lemons were made by coloring marzipan and hand forming them into the shape of little lemons. The topper was made with a whole lemon and lemon wedges with real lemon leaves for garnish. Blake took an early Sunday morning "walk" in the neighborhood and found a few lemon leaves along the way….  The feather butterfly was a last minute addition from Linh.  It added the perfect live-like nature touch to the entire garden theme design.

Thanks There are a lot of people to thank. A special thank you to my friends and colleagues Linh, Araceli, Mani and her two boys for attempting to help me make the poppies and sunflowers which were part of the original design. They also helped share the cost of the cake along with another two friends, Karen and Carlos (and Blake too). Steve, another dear old friend and Blake made the mini marzipan lemons (after some trial-and-error). Steve came over to see what the whole cake process was like and I roped him into helping out !! This is a warning to the rest of you: don't come over while I'm doing a cake unless you plan to help!! And finally, Blake got a new camera lens and took some amazing photos of the cake. I probably over did it on the photos, but they were all so good and it was hard to choose, so I just put them all up on the website.