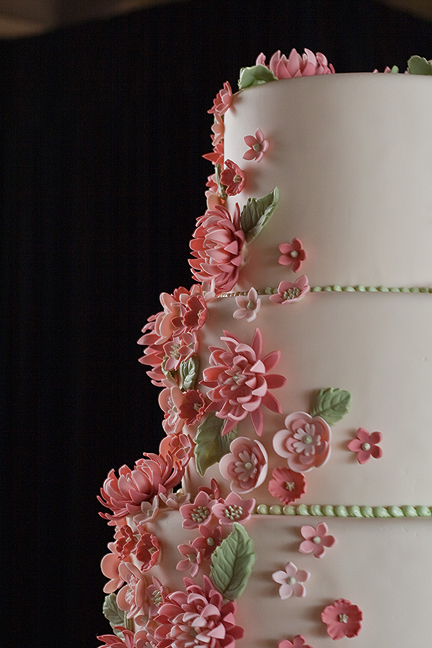 This cake was made for the wedding of my colleague, Paul Winn, and his bride, Sarah Fosburgh, on June 28, 2009 at the Kennolyn Hilltop Hacienda in south Soquel, CA.
Design Paul and Sarah wanted something simple, natural, flowing, relaxed and with the essence of Spring and the beginning of Summer.  They had given me several cake photos showing different elements that they liked.  After a short "interview" of going through the photos and getting to know them better, I was able to determine their sense of "design" that worked with their personalities as well as with the wedding theme.  Sarah was definitely the romantic type, so I worked with a flowing flower theme and their wedding colors of dusty pink, sage green and ivory to come up with this cake design.  To be honest, I never really had a clear picture of the finished cake in my mind like I usually do for my other cakes.  I didn't even know what flowers I would use until the actual day of the wedding.  I just made a bunch of flowers, This cake simply just "came to be".  It was definitely a lot more stressful because I didn't have a final design, but it helped keep the cake more natural and free-form.

Cake I think I have a new favorite cake, and this is it.  It is a recipe slightly modified from the Dede Wilson lemon velvet buttermilk cake with a lemon simple syrup brushed onto each layer of cake.  This was a 4-layer cake with 3-layers of filling.  It is to die for alone or with the lemon curd!

Filling Creamy lemon curd and fresh strawberry Italian meringue buttercream fillings. They liked the idea of contrasting colors inside the cake, so I incorporated the wedding colors of green and pink inside the cake as well as outside the cake  The two outer layers were green tinted lemon buttercream and the middle layer was naturally pink strawberry buttercream which contrasted perfectly with the yellow-ivory colored cake layers.

Icing Lemon curd Italian meringue buttercream covered with vanilla fondant.

Decoration Gumpaste flowers tinted 3 shades of pink with sage green centers and sage green gumpaste leaves adorn the cake in a natural, flowing drape.

Thanks Many thanks to my friend, Poorti, who came over late one night to help make flowers. And, as always, many thanks to Blake for making the lemon curd, helping with the buttercream, assembling the flowers, delivery, etc, etc, etc.  He also took some amazing photos of this cake that would even make the official wedding photographer envious  Eventually he'll get so good I'll have to start paying him!