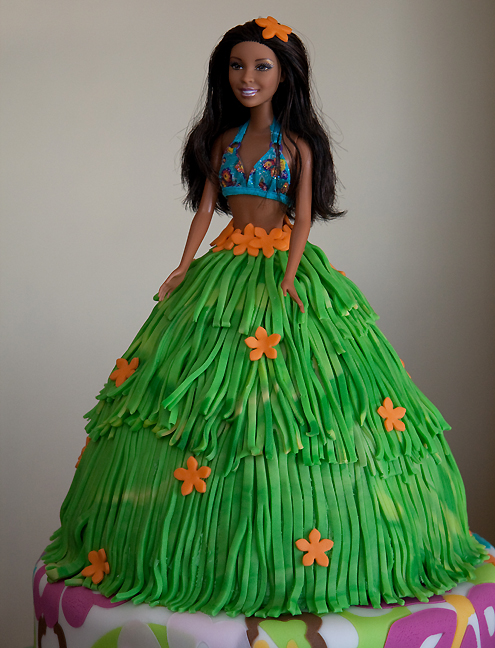 This beautiful hula dancer was made for Nisha's 8th birthday party on April 18, 2010.
Design Nisha said she wanted a Hawaiian themed cake. I brainstormed all sorts of things:  sunglasses, beach, volcanos, hibiscus flowers, flip flops, orchids, pineapple, surfing….. I finally settled on the hula dancer with a hawaiian print base cake that mimics a hawaiian shirt.
Cake White butter velvet cake. I experimented with two different techniques for coloring the batter to match the hawaiian print and layered it in the pan to create some really cool designs. You can only really do this with white cake though.
Filling Chocolate fudge
Frosting Chocolate fudge under vanilla fondant
Decoration Not a whole lot of fancy decoration here. The hula doll is just a surfer Barbi legs and all stuck into an egg shaped base cake.  However, I did try a new fondant technique that I've been thinking about for awhile now. I basically cut out fondant flower and leaf shapes and reserved them on the side covered in plastic wrap so they wouldn't dry out (I did NOT dust the surface with sugar or cornstarch prior to rolling the shapes out to reduce the risk of them drying out). Then I rolled out the white fondant and layered the colored pieces over and then rolled it out again. Then I flipped it over onto another silicone mat and quickly rolled it to adhere so that it could be lifte and draped over the base cake. It resulted in some pretty cool transluscent layering and a really cool, flat printed appearance.
Thanks Special thanks to Blake as usual. He was in charge of the hula dancer. He marbled dark green light green and yellow fondant together and then meticulously cut every grass skirt strand and attached them to the doll cake to make them look like they were swaying. She turned out lovely, don't you think?