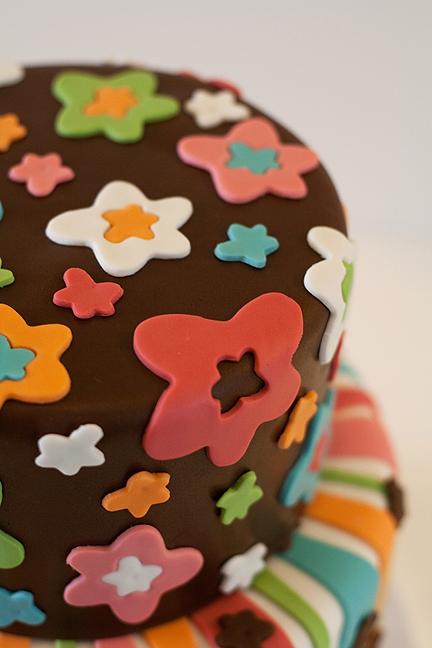 This cake was made for my cousin Taylor's 10th birthday "Peace, Love & Music" party on December 12, 2009.
Design  I basically tried to come up with a modern hippie design for the 21st century young girl.  I gave up after searching on the web for awhile, so I went to Michael's and perused the aisles of scrap booking paper they have and found a few patterned designs that I used as a guide to fit the theme I was looking for.  This turned out to be a totally groooovvvy cake – inside and out !!!
Cake  For me this was the best part.  When I was researching hippie cake ideas on the web, I came across a website that showed how to make a rainbow cake by coloring vanilla cake batter and dropping it into concentric circles in the middle of the pan.  So I borrowed the idea, but colored the batter to match the colors on the outside of the cake and also added chocolate cake batter.   It was a big surprise for everyone and they all loved it!  
Filling  Vanilla bean Italian meringue buttercream.
Frosting  Vanilla bean Italian meringue buttercream.
Decoration The cake is covered with vanilla fondant.  I used a flower cookie cutter to make the flower design and applied them randomly to the top tier.  I cut wavy strips of colored fondant using a pizza cutter and applied them vertically to the bottom tier.  The topper was made using colored chocolate melted and poured into a 4″ diameter peace symbol chocolate mold.
Thanks Special thanks to Blake for making the chocolate peace symbol topper.